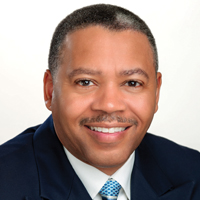 Rev. Dr. Carl E. King, Sr., Pastor
Rev. Dr. Carl E. King, Sr. is our founding pastor and visionary leader. Heeding the call from God, Dr. King founded Christ Community Church in 1987. Under his Pastoral Leadership, Christ Community has become a beacon of light in the community with the mission of "connecting SOULS to Christ." Christ Community is home to over thirty ministries, a School of Ministry and numerous community-based programs aimed at transforming lives through the love of Jesus Christ. A man of great wisdom, Dr. King's preaching and teaching draws people into the word of God, and helps them grow by applying the timeless principles of the Word of God.
Dr. King was called by God to start a church where the community existed within the church. In addition to creating a community of faith and love for members, Dr. King is active in the surrounding communities and encourages members to stay connected and engaged in the community. Dr. King serves as a Chaplain for South Holland Fire and Police Departments. He has also served as the President of the South Holland Ministerial Alliance, and currently serves on its Executive Committee. He serves on the Education Commission for the Village of South Holland and is the former Board President for the Thornton Township High School District 205 School Board.
Dr. King has been an active and committed leader within the Church of God in Christ. He serves as District Superintendent for the William Roberts Memorial District of First Jurisdiction of Illinois (FJI), under Bishop Ocie Booker, FJI Prelate, and is a past Chairman of the Pastors and Elders for First Jurisdiction of Illinois. At the national level, Dr. King serves as a jurist on the National Judiciary Board, is a past Dean of the Institute for the General Council of Pastors and Elders, Church of God in Christ. At the Constitution convention, Dr. King was assigned to the Judiciary Committee, later placed on the Blue Ribbon Committee, and continues to serve on the Constitution Committee. Dr. King has been appointed as Special Assistant to the General Secretary, Bishop Joel Lyles.
A gifted teacher and educator, Dr. King is a past Adjunct Faculty for Indiana Wesleyan University in Merrillville, Indiana. As Adjunct Faculty, he teaches in the associate's, bachelor's and master's program with a Christian emphasis. Currently he serves as a board member on Evangelical Training Association, and the Board of Visitors for South Holland's Unity Christian Academy, and former member on Wheaton College's Board of Visitors.
Dr. King attended Purdue University and received the Bachelor of Arts from Governor's State University. He is a graduate of Trinity Evangelical Divinity School with a Certificate in Biblical Studies; and a graduate of McCormick Theological Seminary with a Doctorate of Ministry.
Dr. Carl E. King, Sr. is married to Dr. Jeanne Porter King, is father of Carl II, Anna Coleman and Marjalene Kelly, father-in-law to Jacqueline King, Louis Coleman and Stephen Kelly, and grandfather of Brenden King and Stephen M. Kelly.