Christ Community Church's single's ministry is called Singles Giving Glory To God (SG3).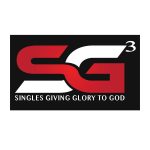 Our ministry's mission is to engage single adults in wholesome events and activities that glorify God so that they may grow spiritually and collectively.  Our ministry's vision is to see single adults striving to reflect the character of Christ, serving God together, and using our gifts and talents to magnify God.
We host several events throughout the year that focus on the singles as well as other members of the church.